Managed by: CLAUDIA CID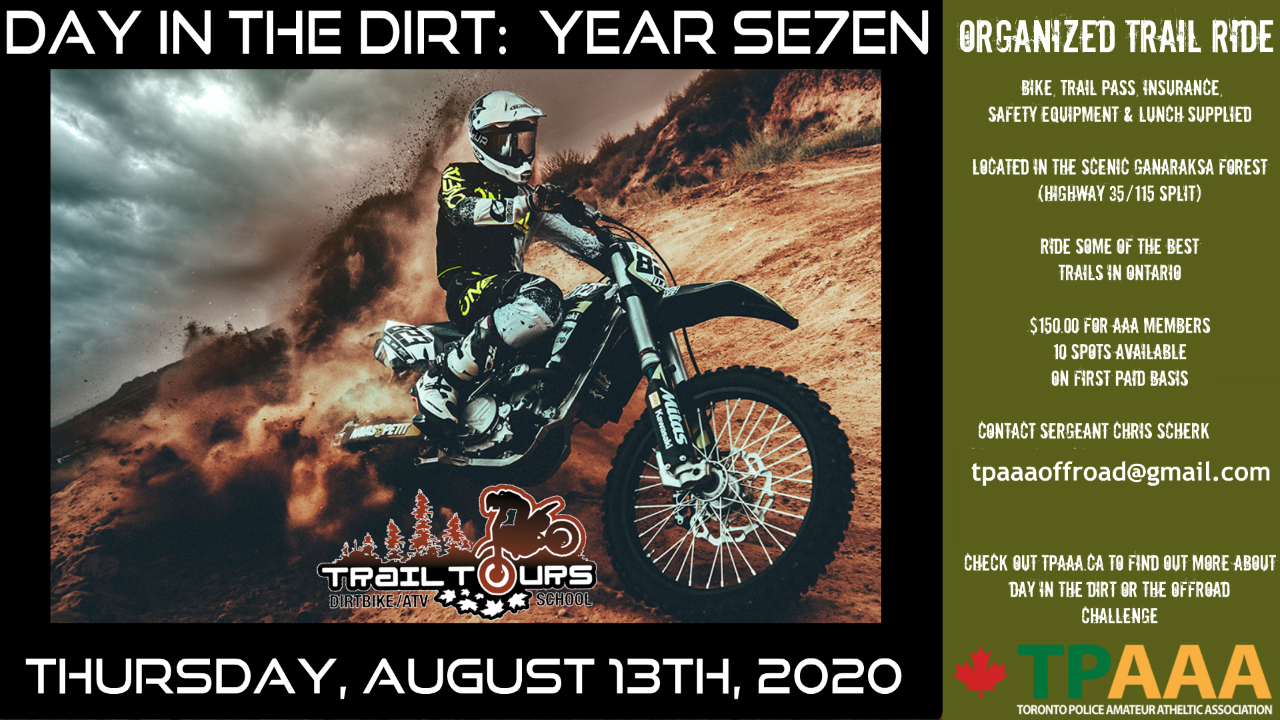 This year's Day in the Dirt runs August 13th , in the Ganaraska Forrest near the 115/35 split down the street from Pontypool.   The day runs from 9 am to 3 pm and LUNCH IS PROVIDED!
The Full Day Ride is the ultimate off-road experience! Depending on your riding ability you will receive customized training at Trail Tours 100 acre training facility, and upon its completion will be taken on a exhilarating tour of the 11,000 acre Ganaraska Forest. These tours are customized based upon the riders' level, desired destinations, and dirtbike/ATV. No two rides are the same! Let Trail Tours experienced instructors and guides look after your every need.  They provide all the equipment, rider training, liability insurance, etc. to make your day the most memorable experience in the woods you've ever had!
This is always a super fun event, and everyone always comments on how it's the best $150.00 they've ever spent on a day experience.  Scott Spicer first ran this event waaay back in the day, and charged $150.00.  Through the cooperation of Trail Tours and most importantly a subsidy from the TPAAA, we've managed to hold the line on 90s pricing!  With the optional insurance, lunch and tax, this event can exceed $300.00 on regular pricing, so T.P.A.A.A. members are getting it for less than half price!  Note that due to the subsidy, this is for Toronto Police Amateur Athletic Association members ONLY, and is yet another fantastic reason to congratulate yourself for opting "in" on your AAA membership!
The order of filling the event is FIRST PAID, FIRST ON THE LIST.  While I admire and appreciate everyone's honour and commitment, there's an old saying.  MONEY TALKS.  If you want to nail down a spot, get your $150.00 in.  E-mail money transfers make it easy!  Transfers will only be accepted to the tpaaaoffroad@gmail.com email address/  The event runs rain or shine,  and the pricing is dependent on everyone attending, so the $150.00 in NON- REFUNDABLE in the case of a no show.  In 6 previous years, we haven't had a single no-show, and a touch of rain really turns the trails into magic, and keeps the dust down in mid-summer.
Everything in terms of helmet, pads, boots is provided, the bike is provided from the CRF 150, CRF 230, CRF250, CRF250X, and the mighty 450X is available for EXPERIENCED OFF ROAD RIDERS. Most riders opt for the 230 or the new fuel injected 250 and have a great day. Ride Red!  Insurance, Trail Pass and Guide are included.  All you need to bring is a change of socks and underwear and a camera.
We do a group shot at lunch and a souvenir group photo and commemorative Day in the Dirt Decal will be sent out to you.  Don't be shy.  Reach out to Chris by email and he'll do his best to answer your questions, there's also an FAQ on the Trail Tours Website.  trailtour.ca
COVID 19 CHANGES TO THE PROGRAM:
Trail tours has traditionally provided water and a catered lunch to the event but is unable this year due to covid restrictions.   Because you were smart enough to tick off "oh yeah, this is a great deal" on your TPAAA card when you got hired, you won't notice the difference.  YOUR TPAAA will be supplying water and lunch and observing safety concerns during the prep & Serving to keep all of our members safe. 
We are also limited to groups of 5 due to the provincial/local restrictions in place on Trail tours, so there will be TWO groups of 5 this year, categorized by skill & experience.  A re-assessment is made midday at the lunch break to ensure everyone is riding to their comfort/skill level.  Steve from Trailtours will be providing some specific joining instructions this year, once the 2020 roster for the day is set.
SIGN UP WHILE YOU CAN FOR A GREAT DAY IN THE WOODS.  LAST YEAR SOLD OUT FAST.   PREVIOUS MEMBERS ARE WELCOME TO PARTICIPATE IF SPOTS ARE AVAILABLE, BUT PREFERENCE WILL BE GIVEN TO MEMBERS THAT HAVE NOT DONE A PREVIOUS DAY IN THE DIRT.
Have your own Dirtbike?  This probably isn't great value for you then, as the costs lay mainly in the liability and machine rental.  The TPAAA has you covered!  Stay tuned for our TPAAA Fall Trail Ride for those AAA members with their own bikes, insurance and gear.  A BBQ Lunch, and all day trail ride are in the works, as well as an option to come early for some basic mechanical and setup tips, and some racing Q&A tips and drills from a four time vet provincial and eastern national champ.  This will be a great opportunity, so stay tuned!
About TPAAA Off-Road Motorcycle Competition Team
Did you know the TPAAA has an Offroad motorcycle team competing at the Provincial Level?  We Do!  Claudia CID has won provincial rounds at the Women's B level and is always a podium contender.  Kevin Handlsperger has made the podium at the Novice A Provincial Level and is the OCMC +30 runner up for 2017 & 2018, and Chris SCHERK swept the Vet B championships in 2017 taking the Cross Country, Enduro, and Grand Championship Provincially with Offroad Ontario, and adding the WEC Eastern Canadian XC regional national championship.  Chris backed that up with a Vet A Championship in 2018 taking the inaugural Sprint Enduro Provincial Championship.  The team is ALWAYS looking for a members interested in coming out and doing some races.  It's all about comraderie, bench racing, and having a good time.  There is absolutely a class for you from C class to Pro.  If you've never tried a race, think of it as an organized trail ride, let everyone go at the start, and follow the arrows.  If you pass someone, you're racing!  If you think you're fast, there is a class to humble you.  Something for everyone!
If you're interested in getting back on the bike, or trying a new exciting sport, the TPAAA Offroad Motorcycle Team has something for you.  For new riders, or those that don't currently ride and are thinking of getting back into it, we have the DAY IN THE DIRT.  Run annually the past six years, the Day in the Dirt is an organized Trail Ride with everything provided (Bike, Trail Pass, Insurance, Etc.)  SEE OUR DAY IN THE DIRT HEADING FOR MORE INFORMATION.  For those with a bike and an interest to try a race, we offer the Offroad Challenge.  Have look at OUR OFFROAD CHALLENGE section for details.
The goal is to encourage member interest in off road motorcycle riding, and ultimately racing.  C'mon out and try an event, there's a skill level for you to give this a shot!
TPAAA Off-Road Challenge
Did you know the TPAAA has an Offroad motorcycle team competing at the Provincial Level?  We DO!  Chris Scherk and Claudia CID  are running the colours, and we're looking at getting more of the TPAAA membership out to try this exciting sport.  Mike Kiproff, Nelson Barreira, Roger Swart, Mike Bowmaster and Claudia Cid has have all given this a shot.  In fact, Claudia is now a full time racer in the Ladies B Class, has won races and is now the AAA sports chair for Motorcycle!
WHAT IS THE OFFROAD CHALLENGE?  The challenge is simple. We think riding off road motorcycle racing is tough.  Really tough.  A cross country race is two hours of hanging on to a 240 pound motorcycle over a narrow trail of rough rugged natural terrain.  Lots of other people think it's just sitting on a bike twisting your wrist…. they think it's barely a sport!  If you think you're up to the challenge, come out sign up for an Offroad Ontario or World Enduro Canada Cross Country race this season (Dates Below).  Race licence is $65.00.  Event entry fee is usually around $60.00.  (Varies event to event) You pay up front.  If you finish the two hours and place in the event the team will reimburse you your licence and entry.  In the spirit of the challenge, quitters will NOT be reimbursed…. C'mon… Everyone needs some motivation!  This year we're also adding OCMC (Oshawa Competition Motorcycle Club) Cross Country races to the event.
WHAT YOU NEED:  An offroad motorcycle in good condition.  We strongly recommend one with hand guards, the trails can be TIGHT.  You do NOT require a plate or insurance although a 94 DB sound level in enforced at most races. If you are unsure if what you have would be appropriate, please contact me.  Most motocross or trail bikes are perfectly acceptable for this kind of racing, but a good running machine is essential. Beg, borrow, steal one and give this a shot.  A camelback type water system is also recommended.  MEC carries these for as low as $30.00.
I'D lIKE TO TRY THIS, BUT I'VE NEVER RACED A MOTORCYCLE BEFORE: Both Off Road Ontario and WEC both offer multiple classes from Beginner to Pro.  Veteran (+40) and Super Veteran (+50) classes are also offered.  Again, contact me and we'll help you pick the right class for your skill level.  You don't have to be David Knight, but you need to be at least a competent trail rider with a fair degree of confidence in operating the machine.  If you're just thinking of getting into trying trail riding, give our annual DAY IN THE DIRT a look.
 SEEMS LIKE A BOY THING.  CAN GIRLS TRY THIS?  Boy, can they!  There's a ladies Pro, A and B class available, and if you're really good, you can race any of the men's classes up to Pro!   Did I mention Claudia Cid from the Mounted Unit took the challenge and now is racing full time in the Ladies B class.
HOW HARD IS GETTING A RACE LICENCE AND HOW DOES SIGN UP WORK?  Getting a race licence is a simple on-line affair, and generally takes less than 5 minutes.  Sign up at the races can seem a bit confusing, but once you've been through is a few times, it's not an issue, and Claudia or I will be there to walk you through it.
HOW CAN I FIND OUT MORE ABOUT THE EVENTS?  Go to the Off Road Ontario or OCMC Website and look at the Cross Country Schedule.
WHO CAN I CONTACT FOR MORE INFORMATION?   Your TPAAA Motorcycle Sports Chair is Claudia CID at the Mounted Unit and TPAAA 2nd Vice President and Director of Athletics Chris SCHERK, former Motorcycle Sports Chair is still an active organizer and rider.