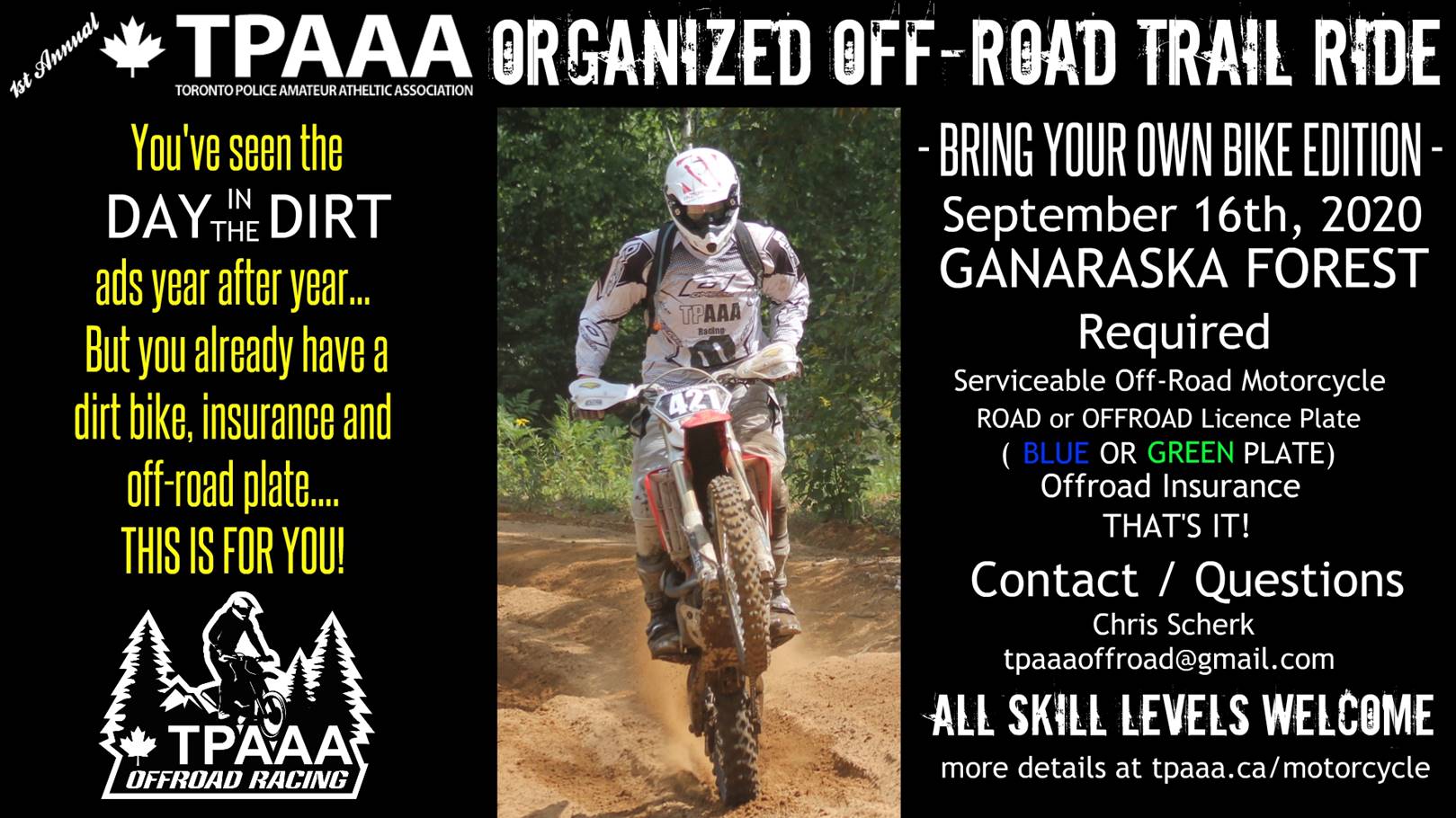 TPAAA Offroad Organized Trail Ride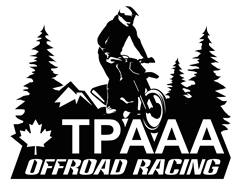 EVENT
Organized (guided) trail ride through the Ganaraska Forest.  Ride will mainly be SINGLETRACK, and will be comprised of three parts. (see timings)
COST:
A day pass for the Ganaraska Forest is required.  I will look after purchasing the passes for all of the riders that don't have them already.  If YOU DO HAVE A PASS, let me know please. Your pricing will differ.
COST FOR AAA Members:  $20.00
COST FOR Non-AAA members $50.00*
*This also comes with a lecture on how a TPAAA membership pays for itself over and over again, and how you'd already be 30 bucks ahead if you had just ticked that little box when you got hired.
Seriously, the ride is aimed at AAA members, but if you have family or friends that aren't on the job, they're welcome too.  (At the higher rate)  If you are on the job, and ARE NOT a TPAAA member, you are also welcome to come and see what your missing out on, but this will come with 8 hours of me bugging you to become a member.  It's for your own good, so it's a public service, really.  J
NOTE:  This is an ADULT ride.  Kids are a different liability issue, I'm looking at a kids day down the road.  So 18+ for this event please.
TIMINGS
9:00 – We are fortunate to have a 4 time provincial and eastern Canadian regional champion racer on hand to offer a technique and setup "school" so to speak prior to the ride.  If you've always wondered how to set your sag, what those clickers do, how to set up your levers & bars this is for you.  If you're just getting started in the sport, we can cover riding position, attack position, braking and steering tips too.  This will be an open coaching session.  There's a short loop right off the parking lot (that I'll likely arrow out so no-one gets lost) so you can try out your adjustments/techinques right away.
10:15 – Morning Trail Ride Departs.  This is a FIRM READY TO RIDE, GROUP IS LEAVING TIME.  Please respect your fellow riders and be ON TIME.  READY TO RIDE means you are ON your bike with all your gear, the bike is gassed up, and all sundry mechanical adjustments (air pressure, ect.) are already done.
In short, we're leaving at 10:15.
12:30 – LUNCH.  Lunch will be provided.  It's just burgers and dogs and chips.  Any dietary needs or wants beyond that, you're on your own.
I'll have jugs of drinkable water.  Bring a cup, bottle or camelback to refill, and we'll keep you hydrated.
13:30 – Afternoon Trail Ride Departs.  If your just joining us for the afternoon, see the RTR (Ready to Ride) requirements for the morning please.  Likewise, if you've had it after the Morning session, there's no obligation to hang around.  But you're welcome to.  Which brings us to….
15:30 – Return to lot and Debrief.  You're welcome to continue to ride in smaller groups or whatever you like, but we'll have covered a substantial distance by then, and it's nice to have a cold drink and story tell / bench race.  It is highly recommended you bring a CAMP CHAIR for the "after session"
Your day pass is valid though, so if you want… of you go!  Braaap!
LOCATION
We're going to use the PORTER ROAD access point.
Directions:  Highway 115/35 north from 401.  Stay on 115 at the 35/115 split.  2nd exit is PORTER ROAD.  When you come off the ramp, TURN RIGHT.  You'll go a couple hundred yards to a dead end.  Continue THROUGH the dead end into the PORTER ROAD ACCESS POINT PARKING LOT.  I'll have some TPAAA signage up, come and find me.  Once you're registered with me, I'll send you an google maps pin too.
RIDE
Ride will be a smooth fun circumnavigation of some of the best trails in the Ganny.  You'll have a chance to see "Lookout Hill", and try the gnarly sand dune hill climb (this is a great spot to hold your throttle to the stops), as well as some of the funnest (I know that's not  a word) single and double track in the Ganny.  All skill levels are welcome, but assess yourself honestly please.  You need to be able to work the clutch, brake, throttle with some proficiency and should ideally have been offroading several times before.  The tightness of the singletrack may be initially challenging for those that aren't used to it, but we'll have some open sections to catch your breath too, and you'll come to love the tight stuff if you embrace it and keep riding it.  We will need to ride to the pace of our SLOWEST rider, so please, no Ricky Carmichaels.  Don't take a turn without making sure the rider behind you sees it.  You might have to wait.  It's NOT A RACE.  No passing in the trails.  We can shuffle the order at the trailheads.   We'll stick together, not lose anyone and have fun. This is a first shot at this, so we'll see how it goes.
See you in September!
CONTACT
Claudia Cid is your TPAAA Motorcycle Chair, however she's taking year off work to attend Mom school with her first child. Filling in for Claudia is former TPAAA Motorcycle Chair and current TPAAA Vice-President Chris Scherk.  Chris is an avid off-road cyclist and is passionate about sharing his love for the sport.  You can reach Chris at the 31 Division Salt Mines at 8-3119 or even better by email at tpaaaoffroad@gmail.com.  Payment can be made to the same email address.
COVID 19 CHANGES TO THE PROGRAM:
Trail tours has traditionally provided water and a catered lunch to the event but is unable this year due to covid restrictions.   Because you were smart enough to tick off "oh yeah, this is a great deal" on your TPAAA card when you got hired, you won't notice the difference.  YOUR TPAAA will be supplying water and lunch and observing safety concerns during the prep & Serving to keep all of our members safe. 
We are also limited to groups of 5 due to the provincial/local restrictions in place on Trail tours, so there will be TWO groups of 5 this year, categorized by skill & experience.  A re-assessment is made midday at the lunch break to ensure everyone is riding to their comfort/skill level.  Steve from Trailtours will be providing some specific joining instructions this year, once the 2020 roster for the day is set.
SIGN UP WHILE YOU CAN FOR A GREAT DAY IN THE WOODS.  LAST YEAR SOLD OUT FAST.   PREVIOUS MEMBERS ARE WELCOME TO PARTICIPATE IF SPOTS ARE AVAILABLE, BUT PREFERENCE WILL BE GIVEN TO MEMBERS THAT HAVE NOT DONE A PREVIOUS DAY IN THE DIRT.
Have your own Dirtbike?  This probably isn't great value for you then, as the costs lay mainly in the liability and machine rental.  The TPAAA has you covered!  Stay tuned for our TPAAA Fall Trail Ride for those AAA members with their own bikes, insurance and gear.  A BBQ Lunch, and all day trail ride are in the works, as well as an option to come early for some basic mechanical and setup tips, and some racing Q&A tips and drills from a four time vet provincial and eastern national champ.  This will be a great opportunity, so stay tuned!
About TPAAA Off-Road Motorcycle Competition Team
Did you know the TPAAA has an Offroad motorcycle team competing at the Provincial Level?  We Do!  Claudia CID has won provincial rounds at the Women's B level and is always a podium contender.  Kevin Handlsperger has made the podium at the Novice A Provincial Level and is the OCMC +30 runner up for 2017 & 2018, and Chris SCHERK swept the Vet B championships in 2017 taking the Cross Country, Enduro, and Grand Championship Provincially with Offroad Ontario, and adding the WEC Eastern Canadian XC regional national championship.  Chris backed that up with a Vet A Championship in 2018 taking the inaugural Sprint Enduro Provincial Championship.  The team is ALWAYS looking for a members interested in coming out and doing some races.  It's all about comraderie, bench racing, and having a good time.  There is absolutely a class for you from C class to Pro.  If you've never tried a race, think of it as an organized trail ride, let everyone go at the start, and follow the arrows.  If you pass someone, you're racing!  If you think you're fast, there is a class to humble you.  Something for everyone!
If you're interested in getting back on the bike, or trying a new exciting sport, the TPAAA Offroad Motorcycle Team has something for you.  For new riders, or those that don't currently ride and are thinking of getting back into it, we have the DAY IN THE DIRT.  Run annually the past six years, the Day in the Dirt is an organized Trail Ride with everything provided (Bike, Trail Pass, Insurance, Etc.)  SEE OUR DAY IN THE DIRT HEADING FOR MORE INFORMATION.  For those with a bike and an interest to try a race, we offer the Offroad Challenge.  Have look at OUR OFFROAD CHALLENGE section for details.
The goal is to encourage member interest in off road motorcycle riding, and ultimately racing.  C'mon out and try an event, there's a skill level for you to give this a shot!
TPAAA Off-Road Challenge
Did you know the TPAAA has an Offroad motorcycle team competing at the Provincial Level?  We DO!  Chris Scherk and Claudia CID  are running the colours, and we're looking at getting more of the TPAAA membership out to try this exciting sport.  Mike Kiproff, Nelson Barreira, Roger Swart, Mike Bowmaster and Claudia Cid has have all given this a shot.  In fact, Claudia is now a full time racer in the Ladies B Class, has won races and is now the AAA sports chair for Motorcycle!
WHAT IS THE OFFROAD CHALLENGE?  The challenge is simple. We think riding off road motorcycle racing is tough.  Really tough.  A cross country race is two hours of hanging on to a 240 pound motorcycle over a narrow trail of rough rugged natural terrain.  Lots of other people think it's just sitting on a bike twisting your wrist…. they think it's barely a sport!  If you think you're up to the challenge, come out sign up for an Offroad Ontario or World Enduro Canada Cross Country race this season (Dates Below).  Race licence is $65.00.  Event entry fee is usually around $60.00.  (Varies event to event) You pay up front.  If you finish the two hours and place in the event the team will reimburse you your licence and entry.  In the spirit of the challenge, quitters will NOT be reimbursed…. C'mon… Everyone needs some motivation!  This year we're also adding OCMC (Oshawa Competition Motorcycle Club) Cross Country races to the event.
WHAT YOU NEED:  An offroad motorcycle in good condition.  We strongly recommend one with hand guards, the trails can be TIGHT.  You do NOT require a plate or insurance although a 94 DB sound level in enforced at most races. If you are unsure if what you have would be appropriate, please contact me.  Most motocross or trail bikes are perfectly acceptable for this kind of racing, but a good running machine is essential. Beg, borrow, steal one and give this a shot.  A camelback type water system is also recommended.  MEC carries these for as low as $30.00.
I'D lIKE TO TRY THIS, BUT I'VE NEVER RACED A MOTORCYCLE BEFORE: Both Off Road Ontario and WEC both offer multiple classes from Beginner to Pro.  Veteran (+40) and Super Veteran (+50) classes are also offered.  Again, contact me and we'll help you pick the right class for your skill level.  You don't have to be David Knight, but you need to be at least a competent trail rider with a fair degree of confidence in operating the machine.  If you're just thinking of getting into trying trail riding, give our annual DAY IN THE DIRT a look.
 SEEMS LIKE A BOY THING.  CAN GIRLS TRY THIS?  Boy, can they!  There's a ladies Pro, A and B class available, and if you're really good, you can race any of the men's classes up to Pro!   Did I mention Claudia Cid from the Mounted Unit took the challenge and now is racing full time in the Ladies B class.
HOW HARD IS GETTING A RACE LICENCE AND HOW DOES SIGN UP WORK?  Getting a race licence is a simple on-line affair, and generally takes less than 5 minutes.  Sign up at the races can seem a bit confusing, but once you've been through is a few times, it's not an issue, and Claudia or I will be there to walk you through it.
HOW CAN I FIND OUT MORE ABOUT THE EVENTS?  Go to the Off Road Ontario or OCMC Website and look at the Cross Country Schedule.
WHO CAN I CONTACT FOR MORE INFORMATION?   Your TPAAA Motorcycle Sports Chair is Claudia CID at the Mounted Unit and TPAAA 2nd Vice President and Director of Athletics Chris SCHERK, former Motorcycle Sports Chair is still an active organizer and rider.