Managed by: KEVIN HANDLSPERGER
---
YOUR TPAAA Motorcycle Team & Trail Tours proudly present
August 24th, 2016
ORGANIZED TRAIL RIDE – NO EXPERIENCE REQUIRED
BIKE, EQUIPMENT, GUIDE & LUNCH PROVIDED!
HOLDING THE LINE ON 2014 PRICING! $150.00 for TPAAA Members (less than ½ price!)
Contact christopher.scherk@torontopolice.on.ca
And we'll see YOU out on the trails!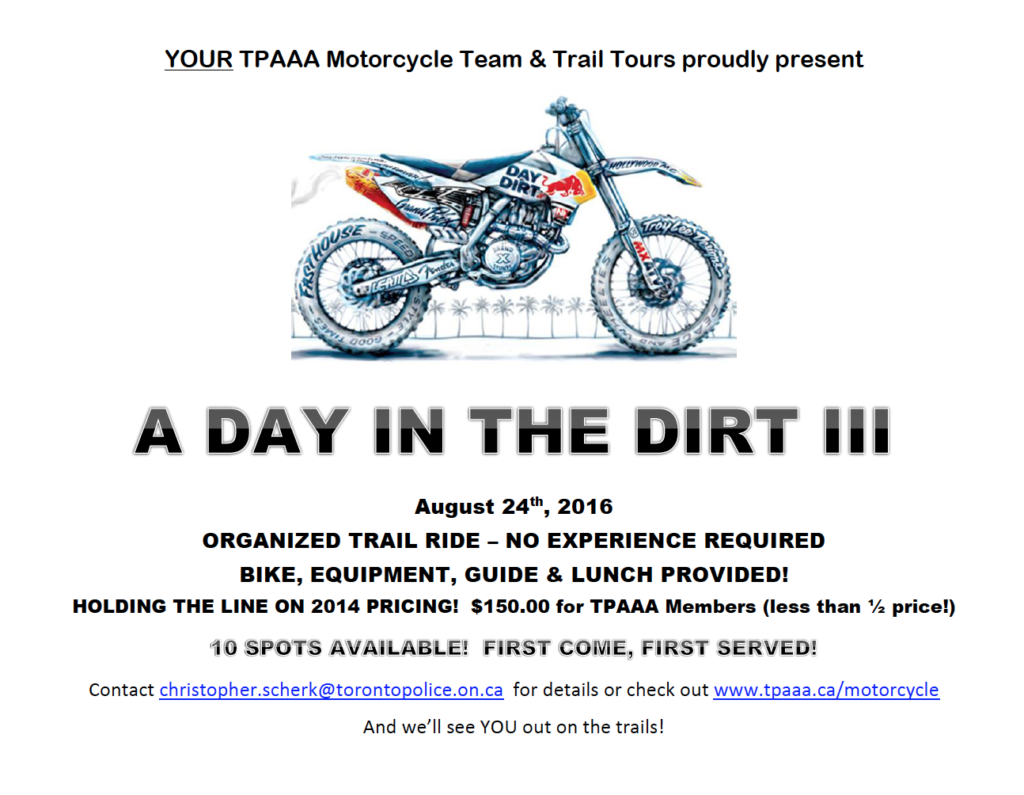 ______________________________________________________________________________________________________________
_____________________________________________________________________________________________________________________
DAY IN THE DIRT 2014 REPORT
Day in the Dirt 2014
Day in the Dirt came and went and everyone walked away happy.  OK, some might have limped away, but a great time was had by all.  A few guys who hadn't been on the bike in some time had their skills shine through a damp day, and a few guys showed a bit of trail rust, and were thankful the ground was a little softer than usual.  Everyone had smiles on their faces at the end, and although the majority of the group were beat (hey, I told you guys this is hard work), the event was a great success.
Thanks to all of the TPAAA members that came out and supported the event, and thanks to the AAA for the funding to make it happen.  Hopefully we'll be in a position to run it again next year!
______________________________________________________________________________________________________________
TPAAA Offroad Challenge
Did you know the TPAAA has an Offroad motorcycle team competing at the Provincial Level?  We DO!  Chris Scherk and Nic Snykers are running the colours, and we're looking at getting more of the TPAAA membership out to try this exciting sport.  Mike Kiproff, Nelson Barreira, Roger Swart, Mike Bowmaster and Claudia Cid has have all given this a shot.  In fact, Claudia is now a full time racer in the Ladies B Class!
WHAT IS THE OFFROAD CHALLENGE?  The challenge is simple.  I think riding off road motorcycle racing is tough.  Really tough.  A cross country race is two hours of hanging on to a 240 pound motorcycle over a narrow trail of rough rugged natural terrain.  Lots of other people think it's just sitting on a bike twisting your wrist…. they think it's barely a sport!  If you think you're up to the challenge, come out sign up for an Offroad Ontario or World Enduro Canada Cross Country race this season (Dates Below).  Race licence is $25.00.  Event entry fee is $50.00.  You pay up front.  If you finish the two hours and place in the event the team will reimburse you your licence and entry.  In the spirit of the challenge, quitters will NOT be reimbursed…. C'mon… Everyone needs some motivation!
WHAT YOU NEED:  An offroad motorcycle in good condition.  I strongly recommend one with hand guards, the trails can be TIGHT.  You do NOT require a plate or insurance although a 94 DB sound level in enforced at most races. If you are unsure if what you have would be appropriate, please contact me.  Most motocross or trail bikes are perfectly acceptable for this kind of racing, but a good running machine is essential. Beg, borrow, steal one and give this a shot.  A camelback type water system is also recommended.  MEC carries these for as low as $30.00.
I'D lIKE TO TRY THIS, BUT I'VE NEVER RACED A MOTORCYCLE BEFORE: Both Off Road Ontario and WEC both offer multiple classes from Beginner to Pro.  Veteran (+40) and Super Veteran (+50) classes are also offered.  Again, contact me and we'll help you pick the right class for your skill level.  You don't have to be David Knight, but you need to be at least a competent trail rider with a fair degree of confidence in operating the machine.
SEEMS LIKE A BOY THING.  CAN GIRLS TRY THIS?  Boy, can they!  There's a ladies A and B class available, and if you're really good, you can race any of the men's classes up to Pro!   Did I mention Claudia Cid from the Mounted Unit took the challenge and now is racing full time in the Ladies B class.  Check out the Race Reports to follow Claudia's progress!
HOW HARD IS GETTING A RACE LICENCE AND HOW DOES SIGN UP WORK?  Getting a race licence is a simple on-line affair, and generally takes less than 5 minutes.  Sign up at the races can seem a bit confusing, but once you've been through is a few times, it's not an issue, and Nic, Claudia or I will be there to walk you through it.
HOW CAN I FIND OUT MORE ABOUT THE EVENTS?  Go to the Off Road Ontario Website or WEC and look at the Cross Country Schedule.
WHO CAN I CONTACT FOR MORE INFORMATION?   I'm your TPAAA Motorcycle Chair, Chris SCHERK, Detective 4306 at Crime Stoppers.  Email is your best bet of getting in contact with me.    christopher.scherk@torontopolice.on.ca
http://www.worldendurocanada.com/cross_country.htm
THE FOLLOWING DATES ARE ALL AVAILABLE FOR "THE CHALLENGE"
OO Cross Country's (XCs)
June 1st – Mansfield  XC, (Orangeville Area)
June 8th  – RJs XC – (Barrie Area)
June 29th –Free Flow XC (Kingston Area),
 July 13th – Motopark – Chatsworth, ON
August 10th – Anthill Classic (Kitchener Waterloo Area)

September 14 – Codrington, OffRoad Ontario (Brighton Area)
Saturday Aug 24 – Gopher Dunes – Cortland, ON (also round 1 CXCC East) WEC
Sunday Aug 25 – Gopher Dunes – Cortland, ON (also round 2 CXCC East) WEC

Saturday Sept 7 – Walton, ON (also rounds 3 CXCC East)  WEC
Sunday Sept 8 – Walton, ON (also rounds 4 CXCC East) WEC
Sunday Oct 6 – Parry Sound, Offroad Ontario
Club races such as OCMC, SCORRA, HORRA ect are also eligible, so contact me, and we'll try to find an event you can try!
See you at the Races
Chris SCHERK
Detective 4306
TPAAA Chair
 _________________________________________________________________________________________________________________________________________
TPAAA Off Road Racing
_______________
2014 Race Reports
Mansfield XC – (Orangeville)
Morning Class racers beginning to stage for the start at Mansfield
The Mansfield Cross Country takes place just east of Orangeville Ontario on the Matthews Farm, and is probably one of the most spectacular XCs of the year, featuring challenging climbs, massive elevation changes, a fast meadow grass track section, and lots of off camber, technical single track trail.
 Claudia navigates the grass track on her CRF 150F
T Dot was represented by Chris Scherk in Vet B and Claudia Cid in Ladies B.  Claudia had a solid first race working up to 6th place by the checkered flag, and Chris Scherk holeshot the morning classes, held the lead for lap one before finally giving up one position to finish 2nd at the checkered flag.
Chris Scherk (421) Hugs the inside at the start.  Holeshot!
The Monster girls were out with Monster Rehab following the race.  Thanks ladies!
RJ's XC – (Barrie)
Rj's XC has been a staple on the Provincial / National circuit for as long as I can remember, and incorporates a sandy motocross track with the biggest jumps on the tour.  It also features a tight 17 km single track through some of Barrie's scenic Simcoe Forrest, including lots of roots, climbs, and technical sections. 
Claudia Cid again lined up for the Womens B class and improved on her previous result with a 5th place at RJs.  Chris SCHERK had a bit of a tree related incident,  taking out a chunk of Simcoe Country spruce with his toe, and smashing his shifter off.  Chris abused the clutch for 3 more laps riding with a shattered toe, and although the KTM was squealing, she held together.  Despite this massive disadvantage, Chris hung on to finish 2nd.  Like Ricky Carmichael says you win your championships on your bad days.  PS.  If you don't know who Ricky Carmichael is, I suggest "google".  What are you doing in the motorcycle section anyhow?!?
Freeflow XC – (Shannonville)
Freeflow is a private MX and camping facility located in Shannonville, Ontario.  Just a short distance from the famous paved speedway, this facility features a tame but fun MX track, grass track, some wider forrested areas, an "extreme" enduro section, and new this year, a valley section with some amazing and constant elevation changes.
I can sum up Freeflow in one word this year….. HOT!  32 Degrees in the shade, and humidity like a rainforrest.  This would be a race of attrition.
Claudia Cid wisely started off in the EARLY morning hours before the mercury would reach insanity, but let's not kid ourselves…. It was still hot.  Claudia put in her best race performance to date, standing on the pegs in an aggressive attack position and slamming her CRF through the braking bumps, and getting back on the gas hard to the next section.  Claudia matched her season best of 5th place, but the top five were moving…. They were all a lap up on the rest of the field.
Claudia with nearly perfect body position in the attack position through the braking bumps
Chris Scherk finally knocked the monkey off his back with a convincing win in the Vet B Class, leading the first lap and retaking the lead in the third lap and checking out on the field.  As lap times for the racers increased with heat and fatigue, Chris saved his fastest laps for the second half of the race and simply rode away from the competition to the class win (first ever in Vet class), and Provincial Championship points lead. Chris lapped the field back to 7th place at Free Flow.  The monkey is still suffering from heat stroke…..
Chris Scherk closes on the lead over the tabletop
Moto Park XC – (Chatsworth)
RACE REPORT COMING SOON….. RACE is July 13th – SEE OFFROAD CHALLENGE ABOUT RACING MOTO PARK!
---